I am a member of Collective Bias® Social Fabric® Community.  This content has been compensated as part of a social shopper amplification for Collective Bias and its advertiser.  All opinions are mine alone. #RegisteringForBaby #CollectiveBias
In just a few weeks we will welcome our third little bundle of joy to our family.  And as I've been nesting for this baby, I've been able to look back at what has really worked for us when we bring a baby home and what needs tweaked.  This is especially true since we already have a son and a daughter, so we have seen what it is to have dolls and trucks and pink and blue enter our home.
This is why I'm so glad to have been able to work with Target and their baby registry service to share tips with you. Read on to see how to make the most of your baby registry so that bringing baby home is a simple and joyful experience.
1.Register!
The first thing that I recommend is to actually take the time to set up a registry.  Don't leave your family and friends guessing as to what you want and need for baby.  Target makes registering simple by giving you three ways to register: online, in-store or via their registry app that is compatible with iPhone or Android.  And to make your registry even easier, all registries pre-populate with a few new mom essentials.
Johnson's® Bath Discovery Set
Aveeno® Baby Daily Moisture Regimen Pack
Infant TYLENOL®
Click the image below to get started on shopping for baby!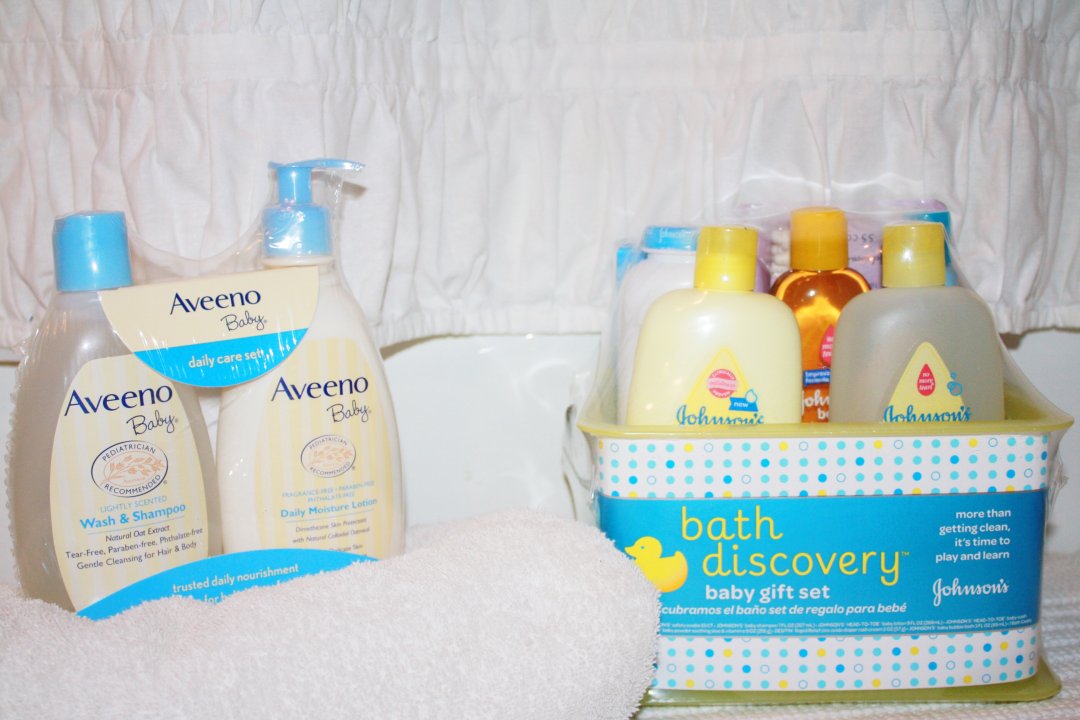 I registered in-store and found the process very easy.  I simply went to the customer service area, filled out my information on one of the touchscreens, and then spoke with a Target employee that walked me through using the scanner to add items to my registry.
2.Register for What You Want
Many times new moms will avoid pricier items fearing that they will offend family and friends.  I understand this.  BUT, don't register for a cheaper version of something just because you feel guilty.  You don't want to be stuck with something you don't want, especially if you plan on having multiple children.  I think that family and friends realize that they don't have to get you something that they can't afford.  Plus, I know of many friends that will all chip in to buy you one gift that you will love and use if it is a more expensive item.  PLUS, Target offers a coupon to all registrants 8 weeks prior to baby's arrival to help you purchase any items on your registry that haven't already been purchased.
Also under this tip, I want to remind you that you do not have to add something because your mom, your best friend or the nosy neighbor says that you "just have to get _____."  If you are trying to live a more minimal impact lifestyle, you will want cloth diapers.  If you are going to be working, you may need a different breast pump.  Maybe there isn't room in your 600 square foot apartment for a crib and a play yard.  You know your lifestyle, so register for the items that you believe will fit best within that lifestyle.
3.Storage and Organization
We all get caught up in the cute clothes and newest gadgets, but don't forget to register for storage and organization helpers as well.  Babies do come with quite a bit, and it will save you so much sanity if you know where all that stuff goes and can find it quickly.  Drawer organizers are great for little bows and socks.  Cute baskets are great for diaper and toy storage.  And don't forget those tiny hangers!
4.Think Neutral
And I don't just mean gender neutral.  Look for outfits that can interchange.  Nothing is worse than having to get rid of a complete outfit because of a blowout stain on one piece that just won't come out and nothing that matches the other stain-free pieces.  Plus, having clothes that interchange makes doing laundry that much less of a headache.
You also need to realize, that as much as you may want or try, your house will be overtaken by baby and kids.  There will be toys in rooms other than theirs.  They will leave sippy cups lying around.  Registering for storage containers and toys that can be gender neutral, and ALSO fit in with your home decor will probably save you a bit of sanity, at least it does for me.  I can handle a mess so much easier if the mess at least sort of goes with the rest of the decor in the house.  Shallow?  Maybe.  But again, I just know what works for us and a happy momma is able to handle crying a lot better!
5.Talk with Friends and Family
It is important that you express to friends and family what you really want your baby's nursery to look and feel like as well as what your priorities are for baby's stuff.  This will help them understand WHY you registered for the items you did AND it will save you from getting a lot of items that weren't on your registry.  Should you have this heart-to-heart with everyone invited to your shower?  No, but your close friends and family want to make you happy and baby feel loved.  Communicating with them about how to best do this, will make bringing baby home that much simpler and more enjoyable for everyone.
Get Started Now
There has been no joy greater in my life than becoming a mom.  But this doesn't mean that I don't lose patience or have anxiety about bringing home another baby.  However, learning that I'm a happier momma when I keep things organized and simple, does allow me to be a better mom.  I hope these tips will help you as you prepare to bring your sweet baby home.
You can get started creating your very own baby registry at Target here.